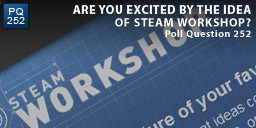 I noticed that Valve announced today that they would be using Steam Workshop to distribute Skyrim mods.
They had previously announced distribution of Portal 2 mods via the same method, and as I wrote on somewhere, that scared the heck out of me.
I'll be honest, I don't really understand why Valve didn't do this years ago. It doesn't even need to have been part of Steam to work.
That said, if they had, there would have been no need for sites like mine.
When Valve and the community does start to create content and use Steam Workshop, where will that leave PP? Well, there should always be a group of users who want to read sensible and constructive comemnts. The problem is that newer players may never find out about sites like mine, because they may feel they have no reason to look elsewhere.
I am curious to see how it will work and how useful the comemnts and ratings will be.
What about you?
The Poll