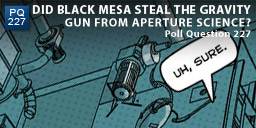 I really enjoyed the Lab Rat Comic and highly recommend it. As you can see from the image on the left, there's the gravity gun on the table and there are other items that we associate with BM scattered around the comic.
It raises the question of who had it first BM or AS? I like the way Valve have got those two against each other.
Anyway, did Black Mesa steal the gravity gun from Aperture Science?
And let's take this opportunity to chat about the BM/AS connections.
The Poll