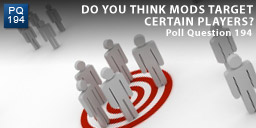 On episode 104 of Podcast 17 (which was our 2 year episode birthday!), Dave, the executive Editor of ModDB said something about mods not targeting players in the same way retail games do. I immediately made a note in my diary because it is an interesting comment.
Some products and services are designed from the ground up to appeal to a very specific consumer. The design team might not even start with a product but a series of questions. "What would this type of person want from the situation?" Perhaps they even take their own personal experiences to help shape the service or product.
We only need to look at the latest websites to see this thinking in action. A person builds a website in anwser to a question. "How can I keep in touch with my friends?" (Facebook), "How can I keep track of all the mods I like?" (ModDB). I'm sure you get the idea. Of course the answer could be the same for many questions; How can I help mods get publicity?" (ModDB)
So, do you think it works the same for mods?
In a way I do. People build mods based on what they enjoy. That's one of the benefits of mods, that we can play something that is not perhaps commercially viable. But building something you like is not exactly the same as building it for a particular market or group of players.
I wonder how many modders look at the idea and ask who it will appeal to. What type of player will play this. And then use that answer to further explore the mod idea.
In fact, that leads onto how do we define players within the mod market? I'll leave that for you to comment on.
The Poll