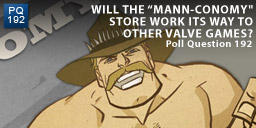 Back in March 2007, that's over 3 and a half years ago, I asked Would you pay for a Half-Life 2 Bonus Content Pack from Valve? 77% said "Yes".
The poll question was really about content for modders to use but we discussed normal content.
For those that don't know, Valve has created a store where you can buy, sell and trade items used in the game. It uses a micro-transaction system called Steam Wallet.
The question is whether Valve will roll it out for other games. I have to be honest and say I have NEVER played TF2, so I don't understand the interest in the different items. It's also hard to imagine single player games needing something like this but you never know. Valve might be able to somehow twist the concept to make it work for EP3.
Maybe CS2 will have this as a built in function.
So, a few questions really. Will it spread to other games? If yes, will they try it in EP2 etc? Can you see it working in single player games and if so, how?
Thanks to Greeman for suggesting something similar as a poll.
The Poll