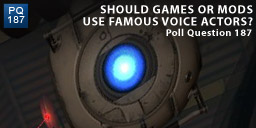 You've probably seen the recent Portal 2 videos and news about the voice of Wheatley; the companion in Portal 2.
When they first released a video it apparently had one of Valve workers voicing the part and , at least for me, I thought he did a great job. However, then came the announcement that Stephen Merchant was doing the voice.
I'd never heard of him until then, but there was a lot of talk about his appointment. Personally, I don't like the idea of using people with recognizable voices for games or mods because it can spoil the immersion.
Hypocrite!" I hear you shout and you are right. It wasn't until today that I thought about it but it's possible I have done more voice acting for Half-Life mods than anybody and my voice is becoming moderately know, at least within the SP mod community.
In fact, I'm pleased to have been selected as the turret voice for Blue Portals. More on that soon.
So, should I stop recording? Maybe, but if modders ask me to record something I will, I've never refused anybody.
There are some great voice actors available and the ones they used in all the HL games are great, and if they were "famous" before recording, I'd never heard them.
Does recognizing a voice spoil games for you?
The Poll