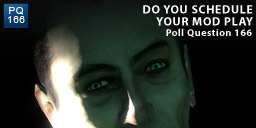 This poll question was inspired by Jasper. He emailed me to suggest a poll about the current mod drought and how it affected us playing our favourite mods.
I jiggled it a little to wonder whether people saved mods for rainy days (or droughts!).
Due to running the site I play them pretty much as I hear of them but I would prefer to be able to save the bigger ones for the times I know I have more playing time available.
What about you.
P.S. the drought is about to end with an absolutely HUGE HL1 mod that I am trying to finish and post for tomorrow. Any HL1 fans out there that love Black Mesa style mod?
The Poll