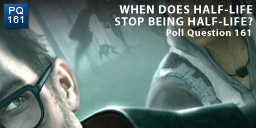 About two months ago jjawinte wrote something that I have been pondering for a while. He said:
Valve couldn't have done it better for the Half Life franchise. Subtle changes have been made through the years of course, but they never strayed from the anchoring elements of the story, and should the franchise continue further, I pray that they never do.
With each change we gain and lose and being the ever optimist I am, I thought about how Half-Life 10 would look. What would a long-time player recognize?
The poll this week's is less serious in its answers than other weeks, purely because the question itself isn't really suited to a poll. So, by all means vote, but let's have the real discussion here on the comments.
The Poll