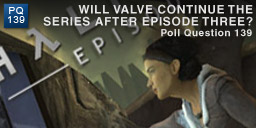 To be honest I can't remember what the official word from Valve is regarding this.
I thought they had said that it would continue after EP3, but I'll be honest with you, I am starting to think that EP3 will be the end of an era.
Let's hope it's just silly emotions of an old fool.
I don't have an insiders in Valve but for some strange reason I can't shake the feeling that they seem more interested in other game titles.
I know they go quite about stuff and then pop up and announce something but this time it "feels" different.
What do you think?
The Poll