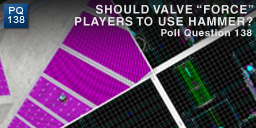 CALM DOWN!
TAKE A FEW DEEP BREATHS
YOU ARE OVER-REACTING
You haven't even read exactly what I am talking about yet.
Ready?
Ok, now that you have calmed down and are a little more responsive allow me to explain.
Have you played Trackmania Nations Forever? If you haven;t and you enjoy driving games I highly recommend it, if you have then maybe you know where this is leading.
When the first version of TNF was released, I loved it, I even played online against other players (shock – horror!). The next version was pretty good but as often happens with me I preferred the first one. I recently reinstalled the newest version and was surprised to see some changes.
Put simply, a player must create and share tracks if they wish to access certain levels within the game.
At first I was very skeptical about the whole idea but I really wanted to see and play those levels so I made a level using the editor within the game. It was simple, crappy level but I got access to the restricted track
Now, what has happened is that I have made a few more tracks and am enjoying making them. This would never have happened if I wasn't "forced" to open the editor and create the very first one. So, it got me thinking would it work for other games and genres?
Let's mention the differences between TNF and Half-Life 2. Firstly, TNF is free and that effectively gives them the right to do anything they want. Secondly, the editor for making tracks is much easier than Hammer. It's essentially a drag and drop type of thing.
The quality of your first map is not mentioned. If you just added a start, one straight piece of track and a finish, you have fulfilled the requirements. All they seem to want you to do is open the editor and try.
I actually think it's a good idea and would like to see something like this in EP3. Sure, you think it's a stupid idea, but the more people who are encouraged (read "forced" in this case) to open and use Hammer, the more likelihood we will have more maps and mods to play.
It would be wrong and impossible to simply do it like TNF did it but Valve should find a way to encourage more of its players into mapping, especially for SP. In March 2007 I suggested a Hammer Made Easy and if something like this could be introduced then that might help.
Going back to a previous poll, I asked Why don