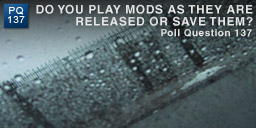 You probably know that I have been on holiday. Now that I am back I have a list of maps and mods to play through and it got me wondering how you play your mods.
If I didn't run this site I would probably collect a few and them play them once or twice a week, but since I do run this site I have to play them as soon as I hear about them so that I can keep the site up to date.
Putting aside the simple logistics of playing them do you think it makes any difference to how we enjoy them?
Personally I can't play for too long in any one sitting because I get bored and my eyes get a little tired. Back in March 2007 for Poll Question 024 I asked How long do your normal SP gaming sessions last? and most players said between 1 and 3 hours. Of course I didn't specify whether that was for maps and mods or just SP games.
This question almost makes me want somebody to take all the single map releases in a year and bundle them into a mod, with chapter titles as the link to each map. Sure it wouldn't be like a real mod but it would sure be a lot easier than having to install them one by one and them load them etc.
Any volunteers?
The Poll