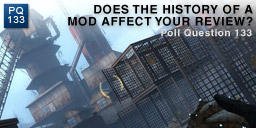 I know a lot of people will say that that you should just review a mod on what you play but I don't think that's possible.
Research and Development was released last week and was made by one person in around 6 months. I honestly believe that makes the mod even more impressive.
If it was made by a team of 10 and took 2 years, we would still love it, but I am sure we would view it differently than we do now.
There have been lots of great mods and I couldn't mention them all but the ones that come to mind are Minerva: Metastasis, Offshore and Leon's Coastline to Atmosphere (with Baltic Forever).
So, the question stands; Does the history of a mod affect your review?
I can't see how it wouldn't.
What do you think?
The Poll