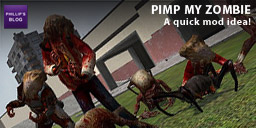 Hec just made a comment on a review of Pimp My Car where he said.. "a special bonus section where u can kill pimp-zombies".
OMG PIMPED ZOMBIES! What a great idea.
Here is how I see the mod working. You start as a regular zombie, no, not a headcrab, that's already been done. As you work your way through Black Mesa you can upgrade or "pimp" your abilities. The labs in Black Mesa contain weird scientific experiments and if you manage to fight your way past the guards and soldiers you can access some of that weirdness.
Some abilities are short-term, others medium and others permanent.
There must be hundreds of abilities that could be added (bit like Modular Combat), things like speed, strength, radioactivity (the closer you get to enemies the more they lose health), accuracy of thrown objects, health from eating brains, killing other zombies to stop them getting stuff, etc etc.
Your ultimate objective to fight Freeman and protect the Nihilanth at the end of HL1.
Let the ideas roll…