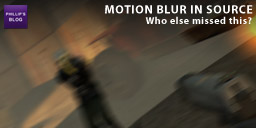 I'm not the smartest person in the world nor the dumbest but I've just noticed that Episode Two has motion blur. This could have been included weeks or even months ago but I only noticed it a couple of days ago.
Makes me wonder what other features I've missed.
I suppose I could look through the Steam updates but it doesn't always list everything. What we need is some enterprising reader to create a nice list of all the player-related updates in the engines since the first release. Might make for interesting reading, unless of course the list is already available, in which case, GIMME THE LINK!
Something that doesn't just list the new updates but explains and demonstrates them. If any hardcore mapper wants to collaborate with me on this, please contact me.
I see that Motion Bur is mention in the Wikipedia page for the Source Engine but it's not dated and I don't have time to look back through the edit history.