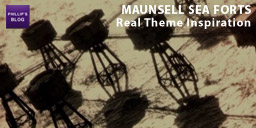 The Maunsell Forts were built during the Second World War to help protect the UK from air and sea attack.
They were small fortified towers built in the Thames and Mersey estuaries.
As much as they are very interesting, visually, architecturally and historically, I don' think you should rushing to copy them. For me, the most useful aspect is one of inspiration.
Whilst they don't have to be Combine structures, that's certainly the first thing that pops into my head. They could be used for some obscure purpose that the resistance don't fully understand, but it's clear they need to be destroyed.
Set in a foggy inlet somewhere, with obviously a significantly lower sea level than before their arrival, the "forts" could be the usual Combine height but connected via flat forcefields.
Anyway, if the forts appeal to you I suggest doing plenty of research as you may be able to make some details used in the original structures.
Some Resources