Update: MapTap has been replaced by Gauge.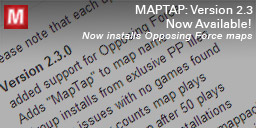 I am very pleased to announce that MapTap version 2.3.0 is now available.
In case you don't know, MapTap is a free application I have built with Alex, the coder, that manages your SP maps for all Half-Life games.
This new version has some fixes and new features. The complete list is below:
Added support for Opposing Force
Adds "MapTap" to map name
Group installs from exclusive PP files
Fixes an issues with no games found
Anonymously counts map plays
"Thank you" pop up after 50 plays
Anonymously counts installations
Highlights first map for some mappacks
Fixes an issue if PlanetPhillip.Com is not available
Fixes an issue of strange symbols in map titles.
Updated copyright date
The important things to highlight are the Opposing Force maps, which will be useful for next month's event: OpposingForceNovemberFest – more on that soon, and the group installs, which will allow users to download special packs exclusively from PP that will install a bunch of maps at once.
Current MapTap users should be notified the next time they open the application that an update is available.
If you have ANY questions about this update or the application itself, please don't hesitate to ask.