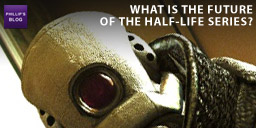 I have to admit that I have been pretty lazy regarding the site over the last 3 weeks or so. It happens every now and again that I get tired of working on it and try to avoid doing anything. Even though I feel down, I don't worry because I know that I come back with renewed enthusiasm and new plans and ideas.
This time it's different because there hasn't been much to do. Sure, I have a lot of work regarding the old Filecloud files and all the older maps and mods that I haven't played, but I just couldn't work up the motivation. It means I haven't felt so guilty about being lazy.
I think I am slowly coming to terms with my fear that Valve has lost interest in the HL story arc. I have no real evidence for this except the lack of information coming from them. This has happened before but with so many other IPs doing so well, the recent announcement of Portal 2 I can't help but wonder am I right?
I don't think I would blame them much because working on the same thing for a long time can get boring but there still seems to be so much more that can be done with the franchise. Anyway, getting back to my original reason for writing this.
At some point in the future there is a very good chance that Valve will stop making games around HL. At that point, modding will continue for a few years afterwards but slowly dry up. I have always contended that the episodes have contributed to the lack of mods from the community. Creating a great mod takes time and why would a team go to all that effort only for a new game to be released with new features before they have even finished their mod?
You only need to look at the lack of mods for Episode One to see that modders don't want to work with something that will be replaced. I know that if I were making a mod I would be worried that if it wasn't finished before the release on Ep3 then I would rather wait.
I've strayed again, but when Valve do stop making games, for how much longer will mods be made? It's ten years after the release of Hl1 and some smaller mods still appear, with perhaps two or three big ones still being worked on. 6 years after Hl2 was released and there are some of those still being made. The only really interesting ones, from my point of view, are the Ep2 ones.
Modding is still a relatively new hobby and making comparisons based on one game franchise is not really fair or accurate but it seems to me that as each year goes by there are less and less really great releases. Although 2009 might be a blip in that trend.
There still seems to be a fairly active Quake scene but I suspect that's due to nostalgia rather than anything else, and I wonder how many new modders have made anything in Quake in 2009.
I have so many great ideas for the site but this drought of releases has me really worried that those new features won't be utilized unless the drought turns into a flood. I will have to spend a lot of time and effort convincing readers to replay or even play the older mods and get them with lots of Recommendation images, so that the site is still useful.
Somebody once said that PlanetPhillip.Com will never be finished and it's hard to disagree with that statement but there may come a time when ALL the maps and mods have screenshots, working downloads and at least a few comments, reviews and recommendations. What then?
It's not a idle question because I like to think long term, longer than most readers will at least, and at that point will the site be finished? Will it just be a case of me adding the rare new releases for a few years until entropy sets in?
Sequels and prequels can only go on for so long. You only need to look at films, books and TV shows to see that. At some point the viewing/reading public will tire of it and then the manufacturers of that entertainment will decide that the number of sales is not worth the effort. Of course, gaming IS different from other entertainment forms because each year the technology gets better but that doesn't automatically follow that our favourite games will continue to be produced.
I'll ponder this some more but I would love to hear what you think the very long term future of the HL series and this website is.