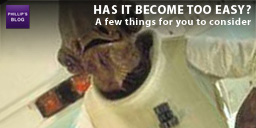 Has is become too easy?
That's a question that seems silly. Nothing can be "too" easy, right?
Well, I disagree. By being too easy, we open the flood gates to work that doesn't deserve our attention.
In this article I am going to talk about two aspects of mod making; creation and promotion.
Creation
I've seen it time and time again. Some modder announces a new mod that will eclipse all other mods. It will have a better story, better gameplay and the most amazing experiences. Your first thought might be that this should be covered by Promotion, not Creation, but that's why the problems start.
It's just too easy to think that you can create something amazing, because sitting at your PC and writing stuff like the above is a million miles away from actually making it. And who makes these sorts of claims? Nearly always it's the modders who have never released anything.
Until you actually start to make something and begin to realise the amount of work involved, it's easy to live in cloud cuckoo land.
I honestly believe making a great mod is little different to renovating an antique car. Yes, the car actually exists, but the amount of work is huge. How many renovators would consider such a project without having done smaller renovation work before, let alone announcing it to the world.
Another example I like to use is writing an 800 page novel. I could write an 800 page novel fairly quickly but I have NO doubt it would be terrible. Why? Because no matter that I have written hundreds of thousands of words for this website alone, it's not the same as creating a paced long story.
If I wanted to do that, I would start with short stories and improve my craft. Even if I didn't release those stories, I would probably show them to a few trusted people. The idea? Start small, get better and then get bigger.
So, what we have so far is that too many of the projects are too big or completely unrealistic. And this is where planning comes in. Making a big mod with a team is very different from making something yourself. There are so many aspects to consider; time management, people management, asset management etc.
Have many modders have really considered those aspects carefully BEFORE they started their mod? Some, but not enough.
And this is my point. Digital creation is somehow seen as being easy compared to real-world activities. Perhaps it's the type and age of the people getting involved. Perhaps the virtual nature of the activity makes it harder to see appreciate how much work goes into creating a mod. In fact, the fact that it's has almost no cost associated with it probably has something to do with it.
All I know is that every Tom, Dick and Harry thinks they can make a great mod.
Promotion
I love ModDB, I mean, who doesn't? What it has done for the modding community is amazing. And Desura? WOW, what an achievement – fantastic. But, and yes there is a but, they might have made it too easy for modders to promote their work. Suddenly, everybody is posting stuff on the site and we, the community, have been "mod-overloaded". We actually need a filter now to remove the shit from the worthy.
In my recent Around the Community 014 I mini-ranted about alpha work being shown and released. Aazell, on his blog, responded by listing reasons for and against releasing alpha work. I agree with all those reasons, but the problem I want to highlight here is that there is a difference between getting feedback from trusted associates and releasing stuff publicly.
That's one of the reasons I started The Beta Testers Collective. Not everybody can provide good feedback and with all due respect to Scott, Dave and the team, ModDB often has such inane comments that it saddens me to read.
Getting feedback from trusted people is very important, but do writers release paragraphs to editors? No, they wait until they have some worth providing feedback on. Do writers tell the world they are going to write the next Harry Potter series? No, they sit down and write.
If modders have to get a pat on the back for every little piece of work they do, then they are probably in the wrong creative endeavour. No matter how great your work is, somebody in the gaming community will complain about it.
There's a phrase in English, which is "having thick skin". It normally means being able to tolerate criticism and rejection. However, it should also be used to reject the subservient type of comments too. Telling somebody they are doing a "great job – keep up the good work", is as harmful or useless as saying "that's shit – stop working now". Comments from people you have no idea of their standards or values are not always worth listening to.
For me it's no different than going to any playground in the western world and watching children with their parents. "Mummy, mummy. Look at me!" Then and only then, will they slide, swing or jump. Those modders on ModDB are the same. If they don't have people looking at them, they don't produce anything.
Not having to show every little piece of work comes from confidence and experience. That comes from making lots of small pieces of work and building up.
I am not suggesting that everybody on ModDB is like that, far from it, but enough are to make browsing the site a little less enjoyable.
I can guarantee that if a new modder starts a huge project, the work he does at the beginning will be inferior to the latter work, meaning either doing the first part again or scrapping it altogether.
Of course, all modders will improve over the course of long projects and learn something new, but that's why small work at the beginning is better, so that those improvements can be incorporated into the new pieces.
How do we solve this?
Hell, I don't know, but I have some ideas.
Firstly, let's hack into ModDB and take them offline for six months. Of course, I'm joking but I would love to see what happens to modders if they can't easily show their work. I bet that the committed, dedicated, and mature modders would carry on regardless, while the whinny, little attention seekers would either stop work or double their YouTube output.
So, seriously, what can we do. Well firstly, we can try and explain to these modders that what they are doing is not helpful, either to themselves or the community. But to be honest, I have little faith that common sense will make any difference in these cases. They do it because of the type of people they are. A few choice wise words won't change characters overnight.
What we actually need is a "Quality Filter" on places like ModDB (I originally called this the "Shit Filter", because, let's be honest, a lot of it is shit!). Some way for respected users to judge the updates posted. If enough of these users "pass" something, then it gets on the frontpage. If not, it gets stuck on each mod's page. I'm not suggesting anything be deleted or removed (if modders are stupid enough to waste their time on making worthless movies instead of making better mods, that's their problem), just don't give every update the same prominence.
I post a lot of terrible mods on PP and they also make the frontpage, so I am guilty of what I am complaining about, but I do have a way for users to filter the quality releases and I truly believe that we need that filter or guideline for so much of the content released (I am being very generous with the word "content").
Just to continue the theme of things being too easy for a moment longer. It's not just gaming where we see it but almost everywhere. You can record a video of your cat smiling on your mobile phone and within minutes have uploaded it to your YouTube account, tweeted about it and linked to it on your Facebook page. Yes, that's fantastic for so many things and I would hate to lose that option, but seriosuly, there is so much crap being uploaded we are back to the filter issue.
It's something that society is having to deal with and individuals will have their own mechanism for doing it, but it's too easy to just blanket avoid things and miss out on the worthwhile stuff.
And before anybody mentions DIGG, yes, that is useful but what the majority want is not always the best filter. And so I'll introduce an idea I have been trying to work on for PP, and that's one of "Selected Respected Users". Imagine you could see a list of "Respected Users" on ModDB, check the sorts of things they have "passed" and then either include or exclude them from your personal filter. That way you would have some control over what you get to see, but still benefit from group opinion.
It's like deciding which reviewers get included in the PP ratings. If you could exclude certain people who you don't see eye-to-eye with then the rating you see would be closer to what you are likely to be interested in. I am trying to get this included in the site.
I want to see more people make great mods, my hobby depends on it and yes, I have been harsh, but I also believe everything I have written. We are not going to get rid of all the terrible updates released but we must do our best to make the output from the community as good as possible.
Allow me to finish by saying that I have nothing against ModDB, but used them as the prime example because how they work makes it very easy for users to add content, but there are plenty of other sites that regurgitate it too. The difference is in those cases it's the editors that need to be the filter as they choose what gets put on their site.
Long Live ModDB! Long Live Quality Work! Long Live the Gaming Community!
Did anybody get the visual reference?