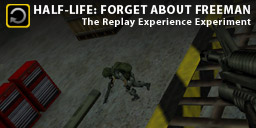 In this chapter, the HECU determine that they're fighting a losing battle against the Xen aliens and, having continually failed to neutralize Freeman, abandon their mission and begin to evacuate the facility, calling in air strikes and heavy artillery to cover their retreat.
Meanwhile, Gordon makes his way into an underground storage garage to avoid the bombardments, and eventually fights his way through scores of aliens and several groups of the decimated HECU forces before reaching the Lambda Complex.
The Marines begin to evacuate Black Mesa and air strikes begin.
Gordon navigates underground water channels and tries to avoid scores of alien invaders as they pick off remaining Marine stragglers.
Trivia
The old level name featured on Half-Life: Day One, given in the "titles.txt" file was: "You're on your own".
HECU officer, radio operator that gives the orders to Cooper, near the end of the previous chapter Surface Tension says folowing text: "Come in, Cooper! Do you copy? Forget about Freeman! We're abandoning the base! If you have any last bomb targets, mark them on the Tactical Map! Otherwise, get the hell outta there! Repeat: we are pulling out and commencing air strikes! Give us targets or get below!". From sentence in the text comes the name of the eponymous chapter.
In Half-Life:Opposing Force, this event is mentioned again, however, Adrian Shephard was at the military checkpoint when the HECU officer transmitted the message at the radio, making a focal point of the two games.
The chapter name is mentioned again in another, more frantic radio transmission. This transmission seems to have been to all troops, and is as follows: "Forget about Freeman! We are cutting our losses and pulling out! Anyone left down there now is on his own. Repeat; if you weren't already, you are now- *transmission is lost*"
The Poll
Challenges
The challenges below have been set by 2muchvideogames
Kill an alien grunt with a ceiling turret.
Find the HEV charger in this chapter.
Retrieve the hand grenades hidden underwater.
Saves
MEDIUM: 100 Health 8 HEV [157KB]
HARD: I need a HARD save for this level. Do you have one? Please send it to me.

Screenshots
Click on the thumbnails below to open a 1024 pixel wide image.
WARNING: The screenshots contain spoilers.
The Replay Experience Experiment
This post is part of the The Replay Experience Experiment 2012 event. This is a chance to replay all the Half-Life games and discuss them based on our experiences since we first played them.
Hat Tip
All text taken from the CombineOverWiki, a fan-supported, editable wiki covering the Half-Life series of games.
A Complete Half-Life Walkthrough
On the left is a complete text walkthrough for Half-Life.

It has been written by Stanley E. Dunigan and updated with all the tricks and tips from PlanetPhillip.Com readers.

It is in PDF format, meaning you can open it directly in modern browsers or download it and print it.

(Left-click to open and right-click to save)
Do Not Own This Game?
You can purchase Half-Life directly through Steam and could be playing in within moments, depending on your internet connection.