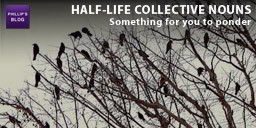 Collective nouns are words used to define a group of objects. Although primarily applied to animals, collective nouns can be used for people, inanimate objects, concepts or other things.
It doesn't take long to find some really interesting ones. So as I sat in the airport lounge again, I started to wonder what the collective noun for zombies was and lo and behold I found this, which is a list of potential words. My favourite is rotting.
There are plenty of sites that list collective nouns, but this one seems very good. For those interested, the thumbnail is a murder of crows. For some supernatural options, try this image.
This of course led me to wonder about things related to Half-Life.
So, just for fun, lets see if we can create collective nouns for:
Crowbars
Headcrabs
Crates
Antlions
Manhacks
Advisors
Striders
Hunters
Metrocops
Companion Cubes
Gargantuans
Vortigaunts
Houndeyes
Barnacles
Snarks