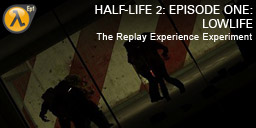 This chapter sees Gordon and Alyx fleeing through the city's ruined, dark, and zombie-infested City 17 Underground as they continue to flee the city.
Alyx is trapped under a Combine Prisoner Pod with a restrained Stalker viciously attempting to break loose, relying on Gordon to set her free.
After escaping from the train, the duo fights through the rubble of dark, deserted, underground parking garages and tunnels, searching for a way to head up to the surface of the city.
In the process, they block off Antlion burrows, and battle various zombies in a pitch black environment, including zombified Combine soldiers, which were never seen during Half-Life 2.
These zombified soldiers, referred to as "Zombines" by Alyx, are a prominent sign that the Combine is losing control of City 17.
Trivia
After Alyx opens the first EMP Field Gate, if the player zooms in on her face while standing next to her, she will nervously look away playing with her hair and then look up at the player, smiling.
She will do the same thing after leaving the underground in the next chapter, and again in Episode Two after opening the Radio Tower Base gate in Riding Shotgun.
Screenshots
Click on the thumbnails below to open a 1024 pixel wide image.
WARNING: The screenshots contain spoilers.
Achievements
I won't be covering the Episode One achievements in the same way as I did in the Half-Life 2 TREE event, because they are less chapter based. However, HLFallout.Net has an excellent guide that I can highly recommend.
The Replay Experience Experiment
This post is part of the The Replay Experience Experiment event. This is a chance to replay all the Half-Life games and discuss them based on our experiences since we first played them.
Hat Tip
The intro and trivia text are taken from the CombineOverWiki, a fan-supported, editable wiki covering the Half-Life series of games.
Walkthrough
On the left is a complete text walkthrough for Half-Life 2: Episode One.

It has been written by Stanley E. Dunigan and updated with all the tricks and tips from PlanetPhillip.Com readers.

It is in PDF format, meaning you can open it directly in modern browsers or download it and print it.

(Left-click to open and right-click to save)
Do Not Own This Game?
You can purchase Half-Life 2: Episode One directly through Steam and could be playing in within moments, depending on your internet connection.