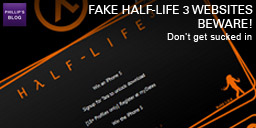 I'm sure we all agree that regular PP readers are smarter than most Half-Life players 😉 but I wanted to warn everybody about a slightly disturbing piece of news I read on the Half-Life subReddit, which linked to a Softpedia article.
Put simply; scammers are creating websites purporting to give users early access to alphas and betas of the game.
The actual URLs are listed in the Softpedia article and I won't repeat them here, visit them at your own risk.
Valve are very clever with their marketing campaigns but I'm sure they wouldn't do anything like this.