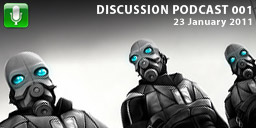 So, here is the first official PlanetPhillip Discussion Podcast.
We chat for about 50 minutes about some older poll questions and discussion points.
Enjoy.
The Topics
Poll Questions:
Discussion Points:
Listen to the podcast
Loading…
My Fellow Guests
Josh has been an avid Half-Life fan since about last year. Making his discovery of the series after buying The Orange Box (solely for Portal), and over the period of about 4 months completing Half-Life 2, he has been been hooked on anything to do with it ever since. He enjoys nothing more than complaining about things such as the government and queuing, being a grammar policeman, and reading, as well as computering when he has time between periods of complaining. When on the computer, he is an administrator of the Combine OverWiki, a moderator and weekly writer for a game called Atmosphir, and is interested in all things Internet and Half-Life related.
Brandon "Grey Acumen" is 26 and can't remember a time before video games; his earliest memories those of playing Legend of Zelda on the NES. He has just reached his 3rd year of Steam gaming, first signing up on Jan 9th 2008 for Portal: First Slice, but it would be another year before he finally purchased and played through Half Life and Orange Box. He has since played over a hundred mods, averaging roughly one per week since he started. His current passion is making suggestions for Minecraft, which can be found on minecraftforums.net (Search for "Aether" or "Extended 2×2 Grid Crafting")