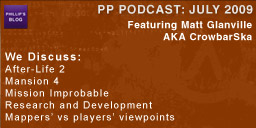 For the very first PP Podcast I am joined by Matt Glanville AKA CrowbarSka, maker of Union and the soon to be released Corn Of The Dead.
We discuss 5 selected mods from July 2009 and also chat a little bit about viewpoints. The show lasts just under 38 minutes.
I hope you enjoy the show and please don't hesitate to provide feedback about the format etc.
I would like to hear from readers, especially mappers, who would like to appear on the show with me. You need to have Skype installed and not be shy on-air!
Links
Listen to the podcast
Loading…