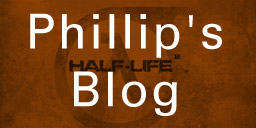 I started playing Star Trek Elite Force 2 and whilst it's not a bad game it's not as good as the first one. This got me thinking "How often has a sequel equaled or bettered the original?"
Well, the answer for that is simple, once. Half-Life 2 was very nearly as good as Half-Life 1. Now I know not everybody agrees with me but it's obviously a personal choice. In this case the technical improvement is clear but I truly believe that if Half-Life 1 were made in Source (Yes, I know about Black Mesa!) then it would surpass HL2. Of course the order you play them is important not just from the story point of view. See Level Combinations for more details.
Limited Experience
Contrary to public opinion I am not that experienced when it comes to games. Perhaps games like System Shock 2, Blood 2, Serious Sam 2, Quake 2 were better than the originals I don't know but when an industry is as new as gaming was when they were released opinions can so easily be affected by the technology. And let's be honest the quality of the early FPS games was not very good. No disrespect intended to all the very smart people who spent many hundreds of hours developing them.
I'm Worried
Why?' you ask. Well, because I really enjoyed Return To Castle Wolfenstein and now that they see to be making a sequel I am worried I won't enjoy it. I kind of wish I could somehow completely erase any memory of the first game before I play the second. That way I would approach it with fresh eyes.