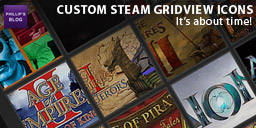 Back in April of this year, I wrote an article called 7 Things I wish Steam would allow me to do. Well, number 7, or part of number 7 is now available and since I only recently found out about it, I thought you might have missed it too.
It's a feature called Custom Steam Gridview Icons and it allows you to add or replace the images you see for ANY game or application you have added to your library.
I first became aware of it when I read DaftMink's comments on the Mission Improbable page on ModDB.
Magnar immediately created a few different versions available – another sign of his professionalism. I did a little search and found two main sources of information: A Steam Forums thread and a NeoGaf thread.
Everything you need to know is covered there.
I can't see a way for mods to have this included automatically, which is a shame, but it's better than nothing.
As with many things like this the community has created hundreds of alternative versions for your favourite games and the above threads contain most of them.
I will be creating one for ForestVille and would love artistic readers to create them for the released Ville mods.