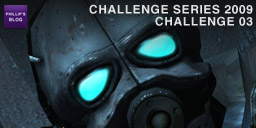 Welcome to Challenge Number 03.
If you don't know what the Challenge Series 2009 is all about, please read the Introduction.
Onto the third challenge.
The Challenge
I challenge you to only shoot at an enemy that can shoot at you, i.e. that has a weapon.
How
Control yourself. It's that simple. Well, it's kinda that simple, because I can think of at least one enemy that this will be hard for, one enemy that this will be really hard for and one last enemy that this will be almost impossible for you!
Why
Perhaps I haven't thought this one through enough but the original idea was to stop you, and me of course, from wasting ammo on zombies and headcrabs. It quickly became apparent that there were a few other enemies that didn't shoot at you too, like the antlions and antlion guards. Without shooting, these would pose a serious challenge to even the best players amongst us.
Therefore, antlion and antlion guards are excluded from this challenge. However, those "poison headcrab carrying zombies" aren't. It's easy enough killing the poison headcrabs that have been thrown, but killing the carrier may prove a challenge.
Anyway, you may not even play any maps or mods with these enemies in, so let's not worry about it too much.
It's very unusual for me to run out of ammo, but that's not the point. Perhaps the higher difficulty setting you play at, the more important it becomes, so we might as well start good habits now.
It may take a fraction longer to kill a zombie with the crowbar, but if I am not mistaken the headcrab only needs one good hit with the crowbar to kill as opposed to a couple of good shots with the pistol.
Of course, it's not just that, it's the distance to and from your enemy too. Having to kill with a crowbar means getting up close and personal, which may in turn improve your circling and movement skills.
Notes
Be smart. This challenge may necessitate ignoring some enemies due to the nature of the map or objective. Don't worry about that, just avoid wasting ammo on those enemies that don't really need it.
Your Experiences
Don't forget a major part of the challenge series is to share our experiences. Don't let my questions limit you but here are some to get you started:
Was it easier than expect once you got used to it?
Did it improve your circling and movement?
Once the challenge is over will you continue playing with this tactic?