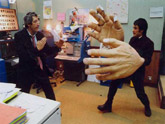 About
I have a request to make to the Half-Life 2 modding community……
Please would somebody be kind enough to build a mod that allows me to play other HL2 mods with very, very large hands.
I have no idea where I found the image above but once I saw it I couldn't get it out of my mind. The player wouldn't be able to hold or use any of the normal weapons but he or she could slap enemies around with brutal force, grab hold of an enemy and crush them and lastly pick objects up and throw them with incredible force.
Yes, it's a silly idea but it might be really fun. So, if I decide to build it, would somebody give me a hand? HAHA, couldn't resist it.
Seriously, could somebody build this for me?