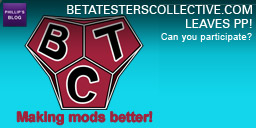 I am very pleased to announce that the BetaTestersCollective is now a fully independent website and project.
I had been looking for a project leader for a while and after a few failed attempts finally found Ade, one of the testers who has worked very hard over the last few months to make it happen.
Ade is now the sole leader of the project and is in complete control. I will of course, offer any guidance or help requested.
I fully believe that the project is a good one and offers benefits to the modding community. However, it's no use if people don't know about it and use it. So if you are a modder, or have modding friends, please visit the website and see how the project can improve your mod.
If you are a player who feels they have what it takes to be a committed testers, then visit the site too. But beware – testing properly takes a special kind of person. A person who is willing to play and replay sections of mods many many times. Don't even think of applying if you just want early access to mods – it doesn't work that way.
On a personal note, I am proud to feel that this project stands on its own feet, but like my other project ValveCommunity.Com that left the PP nest, it requires a lot of work to keep going. It looks like VC is not really being promoted, which is a shame, but if anybody is interested in working on that, please let me know and we can try and contact the current owner/operator.