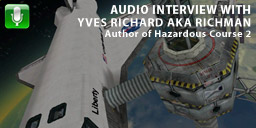 Today I managed to spend some time with Yves Richard AKA Richman, the author of Hazardous Course 2 amongst others and we chatted about the mod and its difficulty etc.
We also talked about the kind of Half-Life players left around and the problems of mapping for Source.
Yves said he would drop by, so if you have any questions, please feel free to post them as comments and hopefully he can answer them.
Listen to the interview
Loading…