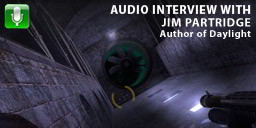 Just a few hours after the release of Daylight I was lucky enough to sit down and chat with Jim Partridge – its author.
We chat about his modding history, his blogs and of course the mod.
In fact, we go into quite a lot of detail about each main section.
Talking about his blogs, here they are
I also mention Intrusion, which is highly recommended.
I hope you enjoy the interview.
Listen to the interview
Loading…