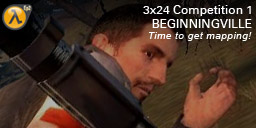 And so it begins.
This is the first of the 3×24 Mapping Competition Series.
Just to ease everybody's mind, the 2 models requirement has been removed.
Full details are below.
3×24 Introduction
This is the first part of a mapping competition series of 3 events, each lasting 24 days – that's 4 complete weekends.
Each competition will have a detailed theme and have the possibility of each entrant continuing on from their previous entry or just submitting a stand alone entry.
There will be an 8 weeks' break between each competition. The exact dates and times are below:
Competition 1: 11:00pm GMT Fri 11th January – 11:00pm GMT Sunday 3rd February
Competition 2: 11:00pm GMT Fri 5th April – 11:00pm GMT Sunday 28th April
Competition 3: 11:00pm GMT Fri 28th June – 11:00pm GMT Sunday 21st July
If a mapper enters all 3 competitions then they will have the opportunity to polish all three entries and release as an updated mod.
The objective is to provide mappers with a global framework for a proper mod, with a beginning, a middle and an end.
Once the second competition has been announced, mappers will be allowed to make small modifications to the end of their last entry, but nothing too significant. Larger changes will be allowed if they enter all 3 competitions.
As with the 6×10 Series, I won't be announcing the themes until the start day of each competition so mappers won't be able to continue working on their maps.
To ensure that entrants don't simple continue working on their mod, there will be some thematic elements that will provide additional design decisions. This will make it difficult for them to simply create something and then try to "fit" it to the announced theme.
BeginningVille Theme Details
This map will "set the scene" and at the end give the player the feeling they have travelled a long distance. It is essentially getting the player to their destination. Of course, there must be proper gameplay, action and/or puzzles too.
The map must start with the player receiving instructions. These can be via voice (a radio, an NPC etc) or even just text on the screen.
The player must feel he has travelled a fair distance. I am looking for something with plenty of movement and hopefully not too linear.
They need to feel as if they are in the middle of something out of their control and are glad to leave it behind.
What's really important is that feeling of going somewhere. Suggestions include a tunnel, conduit, mining shaft, coast, or even a rush through a city's streets with a tank chasing you.
The use of a vehicle is recommended, but not compulsory. The "movement" could be a series of lifts (up or down) fast moving water, a train, a boat along the coast. The choice is the mappers'.
The player must stop at least twice to open a gate, solve a puzzle, help a group of rebels, change means of transport and/or setting etc. Simply, getting them on a train and then ending the map will not be good enough.
The map must finish with the player underground but about to climb a ladder to reach ground level via a drain cover.
3×24 Rules
Two maps per mapper per competition. (Updated from one)
The map must be original and not have been released publicly before.
The map must run in system with only Ep2 installed
By entering the competition you grant PlanetPhillip.Com the right to release the map as part of the 3×24 Mod.
Maps must not appear before the release and for one month after the release of the mod.
No assets from retail games other than HL2, HL2: Ep1 or HL2: Ep2 are allowed.
Other assets are allowed with written permission from their original authors, which MUST be included in the entry.
Phillip's decision is final and no correspondence will be entered into about it.
The map MUST have a proper name.
The map MUST have a proper filename: MapName_pp_3x24.bsp
All entries must be sent to: [email protected] no later than the deadline.
Special Notes
Mappers are encouraged to include freely available assets, including textures, models, sounds and music. This will help the map stand out from other entries. However, the actual experience is much more important than simply including lots of new stuff.
WIP Forums
A will create a WIP forum for mappers to post their WIP or ask for help or ideas. More details soon.
Final Words
I admit that this is a little rushed and I planned to have the forum ready, as well as an intro video created and even a range of generic lines recorded by members of the Voice Actors Guild for use by mappers. So sorry if it seems a little lacking. Hopefully the basic concept is enough to get mappers interested.
I will announce prizes later. I still need to award the prize for the 6×10!!
As always, if you have any doubts or questions, please don't hesitate to ask.