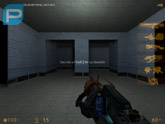 About
This map was specifically constructed to display unused content for Half-Life: Source and as such requires Half-Life: Source to be viewed. There are no enemies to fight against, it's just a museum-type map. There is a Gman who speaks, and I don't recall hearing those words.
PlanetPhillip Note
A big thank you to Dosia36 for sending me the map.
Basic Details
Title: Half-Life Source: Unused Game Content
File Name: hls-sp-unused-game-content.7z
Original File Name: hls-sp-unused-game-content.rar
Size : 185kB
Author: Dosia36
Date Released: 05 April 2007
Download Options
Screenshots
Click on the thumbnails below to open a medium size image.