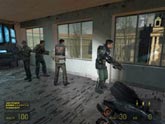 About
This is a gameplay mod idea where you can jump from one player to another. Allow me to explain further. Imagine you are playing a game and in this game you never play a particular character. You can jump between any players you want to but you can't die. If you die then the game is over and you have to start again! Sounds strange? Let's take a specific example.
Half-Life 2 Mod
I'll use the idea of a Half-Life 2 mod to explain. The mod starts with you as a group of rebels inside a hideout. The rebel commander gives the order to locate and destroy a Headcrab firing compound. Off you go into the stairwell, soon after you encounter a Combine patrol, which obviously attacks you. In the fighting you notice your health disappearing. You get close to another rebel fighter and transfer your consciousness. You now control this rebel and the rebel you just left continues to fight as normal. If their health finishes, they die, same as a normal game.
You are now in a new body but does it have full health? This depends on whether it was hit or not. You get the health that the rebel had when you entered it. This could add an element of strategy, where you control your squad knowing you may need their body later in the game.
Transferring
You need to be very close to either a rebel or a Combine before you can transfer. Also, the transfer cannot be made back to the same player. Once you transfer, that's it. In this example you can only transfer between Rebels and Combine. You can't be a Headcrab or Zombie, although that might be fun.
Enemies Too?
Yes, you can even transfer into your enemies but beware the other enemies will fire on you if you fire on them. In addition the rebels will also be firing on you.
The Hidden Premise
Of course this doesn't happen in normal play so how can it happen now? Well, I just stole the idea from a number of science fiction stories: aliens coming to earth for a holiday. They can take control of any human do what they want. The theme has been explored in Star Trek and Stargate but it is much older than that.
Why Bother?
Because it may add an interesting aspect to gameplay. I don't know how hard it would be to implement but I would certainly like to try it. What do you think?