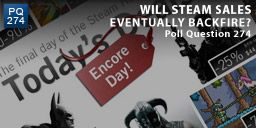 Back in October 2011, I read this article called How Valve experiments with the economics of video games posted on GeekWire.
I wanted to write something about it but one thing got on top of another and I completely forgot about it, that was until two other articles appeared, one of which I currently can't find link to, about Valve pricing policies.
Here is the EuroGamer article.
Anyway, both are an interesting read but for me this is the kicker in the GeekWire one…
Then we decided that all we were really doing was time-shifting revenue. We were moving sales forward from the future – Gabe Newell.
I think that's incredibly perceptive.
Here's how I have been viewing it.
I have bought a fair few games in the Steam sales and haven't played ANY of them. I want to but believe it or not if I have a little free time I would rather spend it on the site.
I am going to make a big effort to play these games but maybe I won't. They could be sitting in my Library for many more months, if not years!
I know for sure that when the Steam Summer sale comes I am going to be very tempted but unless the games I want are under 3 Dollars I am not buying them.
I feel that by having such good sales, they have actually stopped me from buying games in the long term, especially more expensive games.
I would never have thought I would say this but it's possible that the sales are too good.
Maybe the "blockbuster AAA" games don't have this issue because people want them as soon as they come out, but many games are not that important.
Now, I could be the lone voice in the wind (nothing new there) but I know for sure that others, in fact plenty of others, have bought games in the sales they haven't played.
There's only so many games we can buy for rainy days until we or our bank statements say enough is enough!
Perhaps it's the type of game that counts. If you buy lots of shorter indie games then maybe it's not such a problem, but if you buy 10-hour games then maybe it is.
I do collect games, and I want to stop, but I feel that the games collection I have may be worth something in the future. Of course, I am talking about games in proper boxes not via Steam.
And that's another issue, nothing bought from Steam now carries any residual value. I won't turn this into a rant about how Valve manage their policies but not being able to give unplayed games away could be a problem for me.
In fact, from now on, all games I buy I will buy as "gifts" so that in future I can give it to somebody else if I decide I don't have time to play it.
So, do you feel that the Steam sales have changed your buying habits and could cause you to buy less games in the long-term?
Time to Vote!