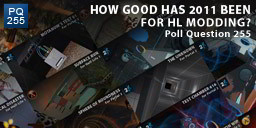 With only one week to go before the end of the year, I thought it might be nice to think back over the last year of HL modding.
Now, when I say "HL" I mean all maps and mods related to Half-Life. Hl2 EP2, Portal 2 etc.
This is not a proper retrospective of the year but just a general feel for it.
We had some good mods, like Precursor and Call In, to name but two. yes, we had some terrible mods too, but that happens every year.
I suppose I would go with a "Good" year. Considering we are on the edge of our seats for Ep3/HL3 I think we could be forgiven for complaining a little bit.
Let's hope 2012 turns into a classic year for us HL lovers!
The Poll – Get voting!