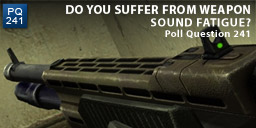 There's an interesting article over on the FPS Level Design Blog about weapon fatigue. Aazell talks about how players get bored using only one weapon, specifically the sound.
He goes on to say "I've learned that if you give the player at least two weapons at any one time their feeling about a map changes dramatically."
I have to admit that I have never really thought about the sound becoming annoying. Perhaps my mentality is different – I can accept repetitive stuff easily. I think I have mentioned this before, but I often listen to the same piece of music over and over again, way beyond what most people do.
I wonder if random sounds would change the perception of the player or even no sound. Imagine a soundless weapon. How would you feel about that? Probably not very good as the sound conveys the "feeling" too.
How do deaf players feel about stuff like this? Makes me feel that I either need to find a deaf beta tester to join my team or get the current ones, to turn the sound off for one or two play throughs.
Taking it one step further, does the sound of a weapon significantly affect your liking of it? I mean, if your favourite weapon started to make a "MEOW" every time you fired it, would you like it less. probably.
What do you think?
The Poll