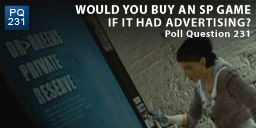 A week or so ago I saw a news report about some server company advertising products in Counter-Strike: Source. I can't find the article now but it said that Valve were not too happy about it, as the agreement specifically disallows it.
It got me wondering how us SP players would feel if there were real world advertising in our games. Let me give you a specific example. Half-Life 3 is announced with a retail price of 50 US Dollars. However, for 40 US Dollars you can get the advertising-subsidised version. Instead of Dr. Breen's Private Reserve you got a Fanta or Coke machine. Instead of Combine Posters you got something else.
The design and layout of the ads would be very complimentary to the game so would "feel" right in some aspect but then "feel" wrong in others simply due to not being what we have come to expect.
Of course, those are the obvious examples and I am sure with a little thought Valve and you could come up with something a little more creative – in fact, as a side discussion, why don't you do that. What cool advertising would you add to the games?
My quick answer would be some form of Arctic clothing brand for HL3.
Anyway, back to the base discussion.
Personally, I would rather pay the extra 10 Dollars and have a "pure" game, but not everybody can afford that or is bothered about these sorts of things. In fact, it really depends on how reduced the other version was.
Whilst the idea may seem crazy, and I don't really believe Valve would sell out like this, the concept of F2P is all over the news recently and developers need to find other forms of income streams and this could be one way they do that.
So, how do you feel about in-game advertising for single player and multiplayer games?
The Poll