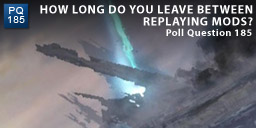 I read quite a lot but recently I haven't had access to new books, so I have had to start re-reading some old ones. Some I remember very well and stop reading almost before the end of the first chapter, others seemed to have faded from memory and only some things are familiar.
At first i thought it was simply the amount of time between each reading but now I don't think it's that simple. I then thought it was how much I enjoyed the book the first time, and again, I now don't. To be honest I'm not sure exactly what it is, but it's interesting.
With so few new releases in the last few months, I am sure a lot of readers have been replaying mods they have played before and I wonder if you set yourself a special amount of time between replays.
The Poll