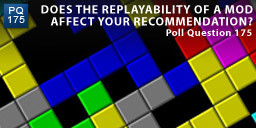 For this poll question I am specifically thinking about people who post reviews and recommendation images here on PP.
I am not talking about playing a mod on different difficulty settings, but the general idea of going back to the mod after a few months and playing it again.
Since I almost NEVER replay mods I base my recommendations on how I feel at the end. If I had a good time then I recommend it, if I didn't then I don't.
As Poll Question 121 should, quite a few people play mods more than once, so I am in the minority.
For me, unless there is some sort of random element, there is no reason to replay a mod. I just don't enjoy knowing what is coming next, even if it is a challenge.
So, if a mods doesn't have much or any replay value does that mean it gets a lower recommendation image?
The Poll