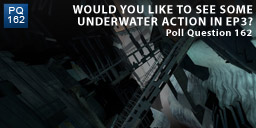 This week's poll question is from Jasper who wonders about some sort of submarine vehicle or adventure in Episode 3.
Perhaps the best way to infiltrate the Combine base around the Borealis would be underwater? Of course, that depends on how much is left by the time Gordon gets there.
What do you think about the idea of having some underwater action in Episode 3 and the general concept and implementation of submarine vehicles and action?
I remember in Chaser some sort of submarine area and I pretty much hated it, it almost made me feel sick. of course, I am sure the way Valve would do it would be much better, but I still wonder if it's ever been done really well.
The Poll