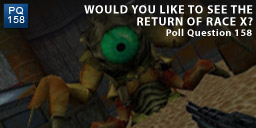 I loved Opposing Force and presume you did too. The inclusion of new enemies was very important and these enemies, called Race X have never been seen since and too my knowledge never been acknowledged in Half-Life 2 or the episodes (please correct me if I am wrong).
So, the poll question simple: Would you like to see the return of Race X?
I definitely would but I am sure everybody is expecting new enemies for EP3, and re-introducing Race X may seem like a cop-out.
I should mention that I am not talking about any remakes of Opposing Force or Mods, but whether the enemies should be introduce in EP3 or other Valve made/sanctioned releases.
Poll Idea Source
A while back a PP reader, called Grey Acumen, emailed me a very detailed poll question about whether Race X could be retconned to fit Half-Life cannon. I felt the question was too detailed, but still very interesting.
I decided to redefine the question and if the result is overwhelmingly "Yes", then I will run Grey's original question as is, with all the detailed poll options.
The Poll