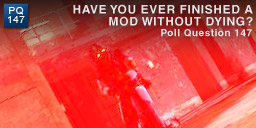 I'm talking about long mods, not just short, twenty-minute things.
My first thought would be If you can then it couldn't have been that hard, but I've been playing long enough to know that there are some great players out there.
I'm trying to think if I have got really far in a mod and died. It's possible, but unlikely for me. I wonder if I had would I have tried to replay it without getting killed. Would or have you done that: replayed a mod to see if you can beat it without dying?
Is dying important in a game?
Back in April 2006 I wrote a article called Do We Expect To Die? and some of the points are still relevant.
I might replay some of the easier mods from recent months and see if I can beat them without dying. In fact, the next mod I play I will do my best not to die at all.
The Poll