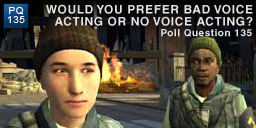 On a recent broadcast of Podcast17.com Emanuel said he prefered no voice acting to bad voice acting. That got me thinking What do I prefer? To be honest I'm not sure. Of course the continual problem with these types of poll questions is that it really depends.
In this case it depends on whether other story telling techniques have been used.
However, if all things are the same then I prefer bad voice acting, because at least that shows the author made an attempt at telling a story.
To be honest, there's no real excuse for bad voice acting nowadays becasue there are quite a few actors available and even some forums where people can request demo reels or auditions.
So, what would you prefer?
The Poll