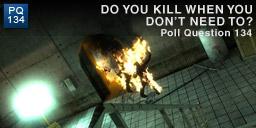 Let's start with a definition. Clearly we don't "need" to even play games or mods but the question is asking what you do once you have the ability to move onto the next part of the game and after you have finished exploring for ammo, health or other goodies.
Here is an example:
You have cleared a area of enemies and have searched and found nothing. Just before entering this area you did a quicksave, in case things got hairy. A few moments after leaving this area you are unexpectedly killed (don't you just hate it when that happens?). Now you reload and have to pass this area again. Assuming you don't have to kill any enemies to reach the health and ammo, do you kill them anyway, even they don't hinder your progress?
Primarily I am thinking of enemies like zombies and headcrabs, but the idea is true for all enemies.
The above example is from a saved game but the true could also be said of normal play. Many times it's clear that I don't need to kill the enemies to pass the level and perhaps reach an objective. Generally I ignore them, especially if they are zombies because I don't get any benefit from killing them.
However, isn't killing the enemies part of the enjoyment? It certain "was" and maybe if this question was asked a few months after each of the games were released then maybe the answer would be different.
We must certainly be getting bored of kill zombies, so does killing new enemies give us greater pleasure?
Let's take another example.
You are in a large open area in a mod made for Episode Two. You have full health and ammo, you have nothing to be gained from exploring, in fact you could lose a lot of both. The next objective is right in front of you and requires you to walk along the path and enter the tunnel. Suddenly you hear the cry of a couple of hunters and have to make a decision. Do you continue forward and reach the objective or go into the forest and kill those suckers?
To me it's clear, go into the forest and kill them but if there were zombies walking and crawling out of the forest I would ignore them.
I don't think it's because zombies don't fire at me but because they are old and boring. (Somebody really needs to create some updated zombies with new attacks etc)
It's clear that the type of enemy is important but if you are the sort of person who actively looks to kill everything what does that say about your personality? Any amateur psychologists like to venture an answer? Or do we need a psychiatrist in this case?
The Poll