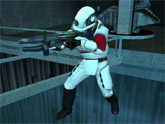 A Different Perspective
After I had finished playing Half-Life, I couldn't wait to play more. Fortunately I didn't play HL until nearly 4 years after it was released, by which time Opposing Force and Blue Shift had been released. Valve seem to have decided not to outsource any HL2 games but if they did ….
Which class of character would you like to see as the player in an official HL2 expansion game?
A Quick Look At Each Choice
Let's have a look at each possibility and see what appears. I'll start with some specific characters.
Barney Calhoun
Why not? We already have an affinity for him and he must have had an interesting time since Black Mesa. Might be fun trying to play alternative roles. There could be some interesting situations where you have to attack Rebels without killing them etc. He has to be seen as a regular Metrocop or else he will be detected. Think about the start of HL2. He talks about "having to keep his beatings up". This probably means he had to do be seen just like any other Metrocop.
Father Grigori
Ooooo, now this might be fun. You would probably spend the whole game with a shotgun! Plenty of talking from this character, which may not fit Valves normal playing character theme. Maybe this would need to be a moody, ravenholm-themed mini-game. I wonder if anybody has ever tried to make a mod around him?
Alyx Vance
Another distinct possibility, although I'm not sure how many HL players would like to play as a female. It would bother me I'm not sure about others. If Valve did make her the playing character I want to be able to do extra stuff that GF couldn't do because of his suit. For example, she climbs a wall during HL2 and I think that the player should be able to do the same. She is also faster, movement wise, and they could open up some different styles of gameplay.
A Rebel
Your chance to fight along side the Great Freeman! Could be some interesting story insights. Perhaps as a prequel to the arrival of Gordon Freeman in Half-Life 2.
A Citizen
Recently done in The Citizen! But that doesn't mean Valve couldn't do it and offer us a different perspective, perhaps during the 7 hour War when things are not so clear cut and nobody knew what was going on. It may have been hard to tell who was a Combine sympathizer etc.
A Combine Solider, Metrocop or Elite
Well, we've already mentioned Barney but just playing as a Metrocop could be fun. I would especially like to have manhacks I could through around. The key would be to ensure that the player isn't playing as a baddie. I never felt like a bad guy during Opposing Force, because Valve ensure I was just a soldier doing my job. That would be a bit hard with the HL2 baddies but it still may be possible.
A New Character
Of course, there is one other possibility and that is a completely new character. Now this may be a perfect opportunity to add a completely different perspective. Got any ideas? I've left the "Other" option open for you to make some suggestions.
I don't think there are any other possibilities. Playing as a scientist (Gordon Freeman!) wouldn't be any different from now and I can't see a whole game playing as a Zombie would be much fun and that just leaves the Vortigaunts, Headcrabs and Antlions!
The Poll