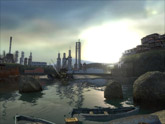 Favourite Locations
Following last week's question about favourite weapons I have decided to continue the theme. This time it's locations.
Here's this week's question:
What is your favourite style of Half-Life series location?
Each To Their Own
As I said last week everybody enjoys different types of things. The great thing about HAlf-Life 2 is that the locations were very varied, especially when you consider that Half-Life 1 was really only two styles.
I know people generally like to vote and not comment but I believe it would be very useful for mappers and modders to hear exactly why we like or don't like certain location styles.
Each one should offer a slightly (or greatly) different style of gameplay and emotions.
It's my experience that modders often try to include too many locations, especially within the smaller mods. If a location has been planned well, and by planned I mean in the simple level design sense AND the flow sense, then most mods should stick with 2 or 3 styles.
So, please vote but also try and explain why you like the style of location you voted for.
The Poll