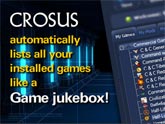 Mod Delivery System
Having a mod delivered directly to your game folder and being able to simply start the game and play it is obviously a great selling point. Steam has done it for games and CrosuS is trying to do something similar with mods. Here's this week's question:
Do you think Mod Delivery Systems are a good idea?
Ulterior Motive?
I used Vapour, which was a sort of "father of CrosuS". It was good but had a few points that needed improving. CrosuS is a very stable and mature product, although as with all software it can always be improved.
Part of the reason for this week's poll question is to see whether it is an area you would like PlanetPhillip.com to explore.
I can list lots of advantages and some disadvantages, but I would prefer you tell me what you think before I give you my opinion.
I am particularly interested to hear from PP readers who currently use CrosuS. In fact I would recommend you visiting the site, downloading the application and actually try it
Then come back here and be completely honest.
In a few days, I'll add my comments and we can continue the discussion.