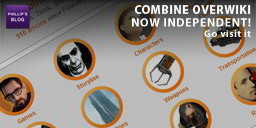 After a Summer of woes, Klow and Bramblepath have finally got the newly independent Combine OverWiki online.
The site allows registered users to edit and create articles and is a fantastic resource for the community.
Show support by getting involved and using the site.
If you find it a little slow at the moment, don't worry, things will improve once the images get cached and the interwebnetthingy gets all settled.
The new URL is CombineOverWiki.Net