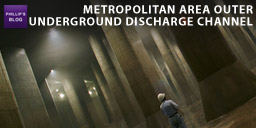 I can't remember where I first found these images but I remember being amazed and thinking this would make a cool level!
It is some kind of water control system for floods or tsunamis etc.
It seem that there are guided tours available and if I ever visit Tokyo then this will be on the top of my list of places to visit!
For this theme to work I think it would need to a suspense-type level, with perhaps an element of a chase with a time limit, meaning you had to creep around but also not go too slow.
A one-on-one battle in the main hall with all those columns could be really good fun.
Resources:
The Gallery