Update: MapTap has been replaced by Gauge.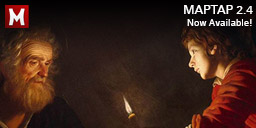 I am very pleased to announce the release of MapTap 2.4, which addresses the Steampipe update.
This version has been extensively tested and we do not anticipate any issues.
However, if you do encounter any problems, please let us know immediately.
Steampipe?
Due to the way Steampipe works, there is no longer a need for MapTap to manage multiple Steam accounts. A popup message will appear the first time you run the application explaining that.
DISCLAIMER
As with all versions of MapTap, it may not work as expected. You accept ALL risk involved. Of course, we don't believe there will be any adverse affects, but it's still not our fault if something goes wrong.
It is only designed to work on Microsoft Windows.
Download the update
Download the update to your HDD [6.03MB]
You have read the disclaimer, haven't you?
Download the full installer
Download the full install to your HDD [10.9MB]
You have read the disclaimer, haven't you?
The Painting
MapTap posts use Dutch Master Paintings as a background. This painting is from Gerard van Honthorst called Childhood of Christ. You can see more of his work on gerrit-van-honthorst.org.